1. Join Us for Our Next Live Harp School  March 19th to 26th – 2023
Do you have a desire to play the harp for worship and intercession? As a musician or worship leader, have you wanted to learn to play harp and enter into and lead others into a place of deep intimacy with the Lord?  Do you long to see Jesus touch lives through the playing of the harp and the prophetic song? If these questions resonate in your spirit with YES!, then you should consider attending the School of the Prophetic Harp.
Come to Capernaum Studios (the set of the series "The Chosen") for a life-changing experience and receive an impartation to minister on the harp. Please click on the video below.
Click here SPH 2023 flyer3 for a flyer as a PDF that has all the details. Meals and accommodation included! Check out the menu of the wonderful food being served…MENU
2. 
Join Us
for a LIVE Online Group Class
If you can't make it to our live harp school, then you can learn from the convenience of your own home via a Zoom Meeting, regardless of where you are in the world. To find out when our next session starts please click on this email link and leave us a message indicating your interest https://michael-david.com/contact-us/
3. Learn at you own pace with the Complete Downloadable School of the Prophetic Harp
If you'd like to learn at your own pace then you can learn with the complete School of the Prophetic Harp that was recorded in Jerusalem. Originally on 13 DVDs and now available as downloadable links, join the students with hours of recorded classes of hands on training. You will also be enriched by the Biblical insights through the rich teaching that was shared at many historic sites including: The Garden Tomb, The Pool of Siloam, The Garden  of Gethsemane and much more. The lessons come with a downloadable multi-paged songbook and several important support documents. Here is a link to watch a Youtube video about the digital harp school https://youtu.be/jmogz6OzSok 
Follow this link to purchase the course https://michael-david-org.myshopify.com/products/13-disc-school-of-the-prophetic-harp-dvd-set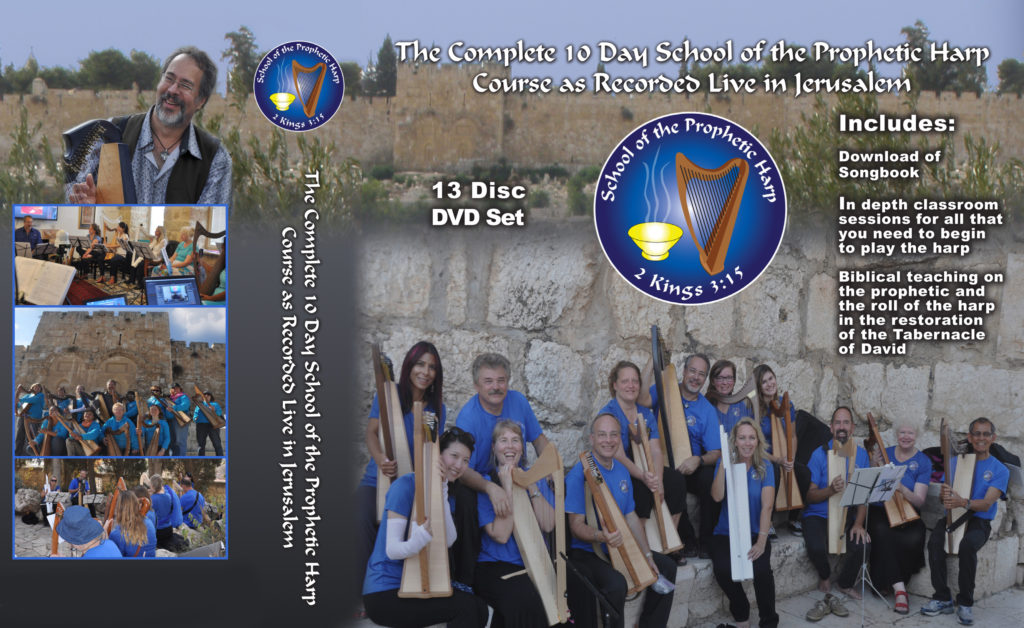 4. 
Of course you will need a harp…
We can provide an economical, yet high quality harp that you will need to learn on. The harps that we recommend are from Harpsicle Harps the world's most popular harp. Click here to find out all about this beautiful harp that you can easily travel with as well as all the accessories that you'll need… https://michael-david-org.myshopify.com/products/fullsicle-harp-and-accessories