It is so exciting to help you on your harp journey. As dealers for the "Harpsicle – the world's most popular harp" we offer the model with levers on all 26 strings called the "Fullsicle". This harp is well loved and is played by traveling harp professionals and skilled amateurs all over the world. (Note: all prices are in USD) You can finalize your purchase and select your options at the bottom of the page and then viewing your CART.
Here are options for your harp and essential accessories as well as the costs:
1. Fullsicle Harp $1,175.00 (Natural Maple finish – this is the most popular finish)
• 26 strings with levers on each string
• 6.4 lbs – 36″ tall (fits in the overhead luggage compartment on airplanes)  


• 3.5 octaves – 

G to C below Middle C
• 2 year warranty and tuning key is included with each harp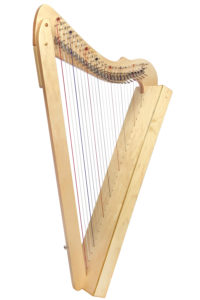 Optional Colors: (available at no extra cost) 

Special Edition Optional Hard Wood finish in Walnut (dark brown finish) or Cherry (reddish finish) add $200. The Special Edition option includes upgraded bass strings. The upgraded strings are also available on the regular Fullsicle for an additional $70.00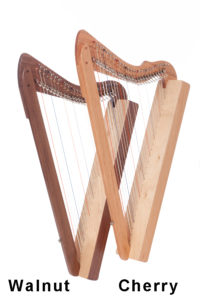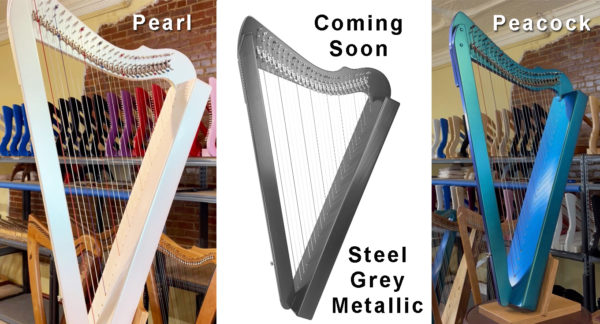 You also have the option of 3 custom paint finishes: 1. Iridescent Pearl (absolutely beautiful) 2. Steel Grey Metallic (stunning under stage lighting) or 3. Peacock Color Shift (changes color in hues of blue and green depending on the angle it is viewed from). Any of these finished are an additional $200.
2. Harp Bag $150.00 OR 

Optional Deluxe Harp Bag (extra padding – a good idea for international travel – features backpack shoulder straps) $250.00
3. Snark e-tuner : 28.00
4. Harp Strap (black) – this allows the harpist to stand and play the harp: $10  
For orders outside of North America, please contact Michael-David at prophetic.harp.school@gmail.com for cost of shipping before ordering your harp.

To purchase your harp and accessories please follow the following steps:
1. Select one of 3 finishes for your harp. 1. Maple or Painted Finish, 2. Special Edition Hardwood – Walnut (dark brown) or Cherry (reddish brown) OR 3. Specialized Custom Color (Pearl, Steel Grey or Peacock) Use the down arrow on the far right of the selection field to choose your options.
2. Click on the Add to Cart button beside the harp with the finish you are selecting. If you select the Maple or Painted Finish you will need to select either Maple or the color of the paint you would like. 
3. If you have selected the Maple or Painted Finish you can choose to have the Upgraded Strings by clicking on the Add to Cart button beside. This is not necessary if you are purchasing a Special Edition as the Upgraded Strings are included.
4. Click on the Add to Cart button beside Harp Bag you would like either the Regular Harp Bag or the Deluxe Bag.
5. Click on the Add to Cart button beside each of the accessories you need (this includes the Snark Tuner, the Strap, a Pro Pickup and cable)
6. At any time you can see what you have selected by using this View Cart button (there is a View Cart button at the bottom of this page too).
SELECT ONE OF 3 FINISHES

1. Maple or Painted - $1175 plus $95 shipping
2. Special Edition Hardwood – $1375 plus $95 shipping
3. Specialized Custom Color – $1445 plus $95 shipping
Upgraded Strings gives you a richer tone for the last four strings on your harp. You can order this for your Maple/Painted harp or your Specialized Custom Color harp. It is not necessary to order this for a Special Edition harp as it is included in the price.
Harp Bag $150 or Deluxe Harp Bag $250
The regular Harp Bag is fine for protecting your harp in a normal environment, however, the Deluxe Harp Bag has extra padding and is a good idea for international travel. It features backpack shoulder straps.
Pro Pickup - Installed - $230
Having a Pro Pickup is a must for those who will be running their harp through a sound system. We are using the new LR Baggs IBEAM Active System (Classical). It is a combined pick-up and pre-amp with a 1/4 inch jack connector. This pick-up is specifically voiced for nylon string instruments and has a high degree of fidelity which will bring out the dynamically rich voice of your Harpsicle® brand Harp. The pre-amp is also specifically designed to add a bit of compression and auto-EQ to render a warm, analog voicing without the need for an additional EQ board. The IBEAM Active system is powered by a common 9V battery, which provides approximately 1,000 hours of playing time when plugged in.  Note: Make sure to unplug any cables from the harp when you are not using it. This will prevent the battery from being drained through the cable when you are not using it.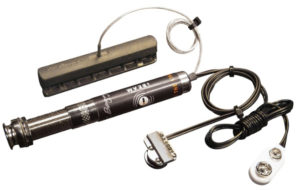 Hi-Def Cable - price varies depending on length
If you are using the pickup, then you will need a cable. However, people seldom think about this, but the cable that runs between your harp and your amplifier loses details from the voice of your harp so your harp ends up sounding less clear (particularly if you are using a poor quality cable). That is why we recommend Asterope Hi-Def Cables which produce a high quality sound like no other cable. They utilize revolutionary technology that delivers a reduction in noise and a substantial increase in clarity, harmonic and frequency response and spectral balance. We guarantee you will love them.