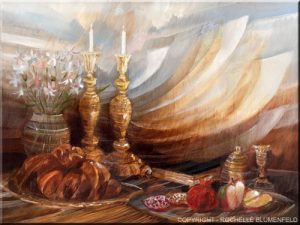 Hi Friends, normally I would have a separate blog from Zsiporah in her own corner, but as we are approaching the High Holy Days, I wanted to ensure that you heard our hearts about this special time of the year. Here are her thoughts and, at the bottom of the page, a link to the video of our blowing of the shofar at the National House of Prayer in our nation's capital, Ottawa, Canada.
Rosh Hashanah?
When I was a very little girl, half a century ago, the only people who cared about Rosh Ha'Shanah were my relatives, we were Jewish. We lived in a big city, and all our community gathered at one of the three Synagogues, and we 'Davened' all day, reading the Torah in a chant like fashion. Men had competitions with each other to see who could read it the quickest.I don't remember the rabbi teaching or sharing, perhaps he did, but we children were given ridiculous amounts of freedom to run around the synagogue and to visit and play with each other. I didn't understand that in post war America, this freedom was not typical of how the Jewish peopled celebrated or honoured time in the synagogue in their homelands, especially Europe, where they had come from. I took it for granted. The parents, I think, were hoping that the children would make great friendships that would last a lifetime and create ongoing community, and even marriages. There were no matchmakers in the new world, so this freedom to play, and to attend Hebrew school together were the closest thing.
A few days ago, once again, I went to my relative's house for Rosh Ha'Shanah dinner. It was an absolutely perfect meal of old style Jewish cooking. Still, my favourite. Food from your childhood brings back great memories and bitter sweetness of the years. These memories show how current history has changed us all. My son was not with us this year, as he is back in Israel-to stay. So that is bittersweet, I am so glad he is there. It means so much to me, but I miss him and I miss that at this time I am not there, in the Land.
But there is a phenomenon that I see that in some ways surprises and delights and confronts and concerns me all at the same time. I am so glad that the world of Gentile believers have embraced the heart of the Messianic roots of our faith in Jesus, Yeshua. 37 years ago when I became a believer it was all a new paradigm and it has unfolded as I have walked through my own journey as Messianic Jew. At first they called me a Hebrew Christian, but then a shift came and the Messianic congregations increased, and the terminology changed!
My walk has been a very specific journey, where I have tried to apprehend that which is authentically Biblical, and designed as a One New Man Faith described in Ephesians. I have been willing to 'throw out' as it were, that which did not line up with scripture. Perhaps even a beloved " tradition of man that made the Word of God of no effect".
When I was a brand new believer, I went to a Bible college. While there, I read the Bible straight through, and then back and forth through many books, all of it new, and all of it unfolding before me. It was the Autumn of the year and the Jewish High Holidays were upon us. I was far from home, and had no idea, as a brand new Believer, how to celebrate my Holidays. So, I searched the Bible for instructions about Rosh Ha'Shonah…and I could not find it! I could not find Rosh Ha'Shanah – I was shocked, and thought I must have missed something. I read through all the sections in Leviticus and Deuteronomy to the best of my knowledge and it was not there. Imagine my dismay. I saw instead – the Feast of Trumpets, not even that, but a blowing of the Shofar and holy convocation called for. Then came Yom Kippur as we all knew, and then Sukkot – the Feast of Tabernacles.
But I did not know what to do with this new information, that there was no Rosh Ha'Shanah in the bible and that according to the word in Leviticus, the Jewish New year was in April, at the time of Passover, in Spring. I guess that made sense.
But, what I don't understand is the focus on the Jewish new year by biblically knowledgeable believers . You know when you read your bible it is not there.
For me, I choose to acknowledge Rosh Ha'Shanah before my relatives, as a culturally accepted ideology. I guess it is like promoting Jesus birth at Christmas. I don't have a problem understanding and even enjoying that from a cultural paradigm. But, it is not the true time.
So, if you are enjoying fellowship with Jewish people and want to honour them by recognizing their culture, it makes sense. Why be confrontative and argumentative? To what end? I believe that would be counterproductive. But, amongst ourselves, I don't understand why we seem to buy this wholesale without parenthesizing our use of Rosh Ha'Shanah as a cultural thing. Having said all this, and being grateful that the Hebrew Roots, the Messianic Paradigm is being honoured, still, I am trying to understand why there is a whole new Christian culture where even the prophetic words are all acting as though this truly is God's Jewish New Year?
The high irony behind all of this, is that the very word in Leviticus 23 translated as Feasts, is 'Moedim" . The sense of this word is commonly accepted as "appointed times' and even 'rehearsals'. I say, that here is an appointed time according to the Lord in his word to celebrate the New Year, and it is ironic to me, that Jew, and Gentile believer alike seem to be ignoring this momentous opportunity to do it right.
So, you say, Zsiporah how are you celebrating the Feast of Trumpets, as a Messianic Believer?
Well, this year was special as we were visiting the National House of Prayer in Ottawa, Ontario, Canada, our Nation's capital this year. NHOP received their beautiful heritage building, that proclaims prayer and supplication over the Nation of Canada, 11 years ago, at the time of the Feast of Trumpets. We blew the Shofar, as it is commanded and we prayed blessing over our Nation, and Israel. (to watch the video of the LIVE Stream click below) This holiday of Yom Ha'Truah, heralds the 10 days (of Awe) that lead up to Yom Kippur. This day, of Yom Ha'Truah, culturally called Rosh Ha'Shanah, is a time to alert ourselves as the Shofar is blown and prepare our hearts for these Holy Days. Be alerted! Shalom.